I would like to take a minute and say that I know I'm a terrible blogger. I don't even really have an excuse this time, which makes this entire situation much more horrible. Aaaand just like that I'm over it. The only reason I'm giving myself a bit of a reprieve here is because I did actually adhere to my objective of reading books from my own summer reading list. Alas, I did not exactly get through every book, but I did read more than half of them. Soooo since I spent much of my free time doing my homework, I think it's okay that I took some time (or all the time) off from chronicling the books I've read.
Anyway. I'm here to write about Not a Drop to Drink by Mindy McGinnis.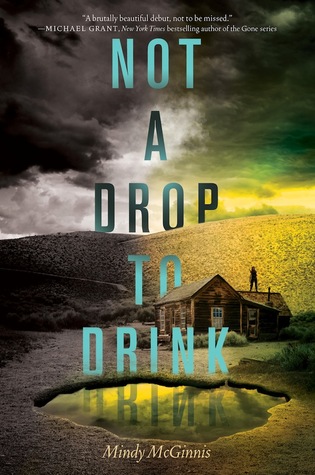 Mini Summary
Set in a future, post-apocalyptic America, clean water is sought after and very difficult to find. In fat, it is killed for. Lynn and her mother, Lauren live in Lauren's childhood home, which luckily happens to be right next to a freshwater pond. Lynn and her mother spend their days purifying the water and defending their home. They aren't living as much as they are surviving.
First Impressions
Another post-apocalyptic/dystopian novel…. really? Ugh. Must I read another one of these? It better not be a series.
About 20 pages in…
Ssshhhh, Amy shut up this is ah-mazing.
What I Liked
1. The writing. Plot-wise, this was very slow, but Mindy McGinnis' writing was so raw yet vivid that I would look up from my book and suddenly realize that 20 or 30 pages had flown by. The setting in Not a Drop to Drink is rural Ohio and even though I feel like this has been done before, the writing was so descriptive that I could easily picture the dried-up and almost-lifeless landscape.
2. The characters. As I've stated several times (A.K.A. pretty much in every post), for me, a book is amazing if the characters draw me in and make me fall in love with them. And by this, I really mean that I have to love the characters so much that I believe they are real people (Which is not at all totes cray).
Lynn, though stuck in her ways and annoyingly closed off to the world, is a great character. Despite the aforementioned traits I understand why she is that way. Even she acknowledged her lack of life experience and worked to adapt to her new family.
Stebbs. The injured neighbor was- at first- just a name that Lynn and her mother tossed around when they discussed the few people near them. When Stebbs finally got page time I grew to love him as much as Lynn did; he might even be my favorite character in this book.
Eli, Lucy and even Lucy's grandmother Vera were all great supporting characters! Given Lynn's personality and situation, their characters were about as fleshed out and involved in the plot as she would allow.
What I Didn't Like
The ending. It's not like it bothered me that much, but it seemed a bit rushed. The rest of the book was rather slow up until the last 50ish pages when everything kind of exploded… and then it was over. It obviously didn't ruin the rest of the book for me, but I would have liked an epilogue. Hopefully I'll see something like that in the companion novel.
Overall, this book fulfilled my need for badass characters living in a post-apocalyptic world. I really enjoyed the change in pace from other dystopian novels in that McGinnis didn't feel the need to have an action-filled plot, but focused on the characters and how they worked together to survive. After reading this, I feel totally ready for an apocalypse.
Seriously.